Knowing your customers and understanding their needs is key to your company's success. However, creating content and sharing it now and then is not enough. It would be best to think about publishing content's frequency and consistency to reach your growth marketing goals. Continuous content offers you more data, more opportunities, and higher chances of achieving your objectives.
Creating great content is a challenge for most marketers
Unfortunately, quality content doesn't create itself! It is challenging to deliver quality content to an audience that suits their needs, let alone delivering it repeatedly. Most growth marketers say creating content that generates quality leads is their biggest challenge.
If you face the same challenges, you know that creating content is both challenging and necessary. You cannot fill your sales funnel until you have content that attracts an audience interested in your service or product.
Although quality content may seem tough to deliver, it is crucial to your marketing objectives. We can help. We can create content that is optimized and keeps you ahead of the competition. In addition to publishing great content, regularity is essential as well.
7 ways continuous content grows your brand
According to research from Aberdeen, content leaders see 7.8X higher annual growth in unique site traffic versus followers. But how does your organization transition from a follower to a leader? It's all about setting the pace. Frequency is a big part of that.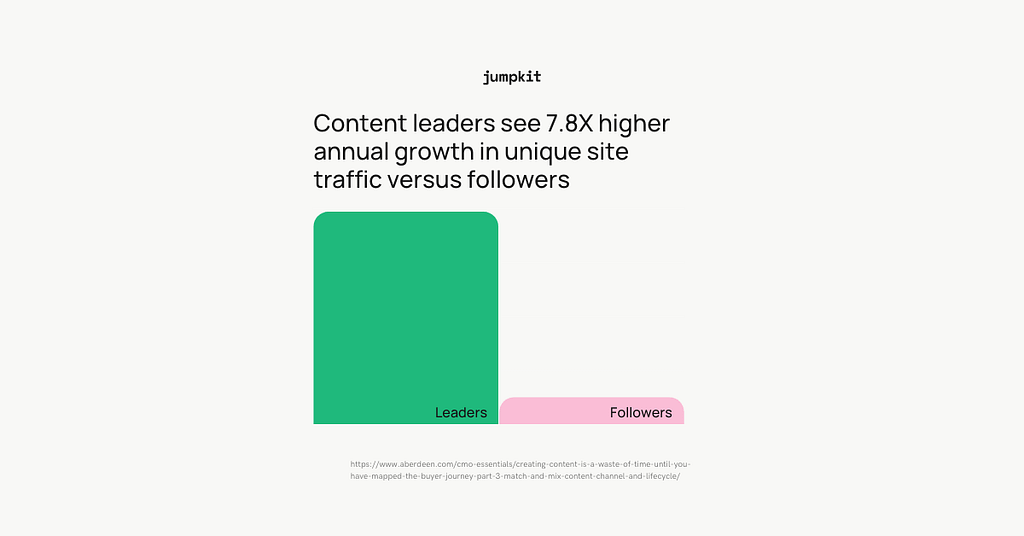 With great branded content coming from your brand at a consistent pace, you'll establish your brand as a leader in several ways.
1. Builds trust with your audience by publishing fresh content
Trust is the foundation on which your organization can build its relationship with customers (and potential customers). Given the option, buyers prefer a company whose values align with their own. The more you bring people in via fresh content, the more they see why your brand is relevant to them.
2. Keeps your social media followers engaged with original content
Instead of sharing content from third parties, you'll have content that's directly from your brand. Because you produced it, you have complete control of the user's experience. Harness the power of social media engagement with personalized, meaningful content, and watch your brand grow.
3. You become a reliable resource for third-party publications
The more valuable content you create, the higher your chances of being recognized and referenced by third-party publications looking for resources to bring value to their audience. These links will drive referral traffic as well as improve your SEO performance, leading to long-term growth.
4. Answers voice searches with conversational content
Think about how you use your own devices each day — odds are, you and people you know use voice search more often than you might realize. Whether on a phone or a home device like Google Assistant or Amazon's Echo system, customers rely more and more on the results returned via voice. You'll have more opportunities to be the voice search result when you offer more conversational content that provides the answer your audience seeks.
5. Gains more search visibility by improving your SEO performance
Without a targeted search engine optimization strategy, your carefully crafted content might never climb to the top of Google's search results. Thinking about SEO upfront ensures that your customers, and others doing relevant searches, see your site high on results pages. The more people that are satisfied with your content, the more your ranking improves, making SEO an undeniable boost for growth marketing.
6. Updates your email contacts with valuable information
When your customers and contacts trust that you are providing valuable, worthwhile information and resources, they will want more of it. Email is a fantastic way to stay in touch, reconnect with people, and promote your brand. By offering valuable content instead of bombarding your customers with sales messages, you'll create a positive relationship with them.
7. Boosts the performance of your content through paid promotion
With a consistent content strategy as part of your growth marketing initiatives, you can take advantage of well-performing content. Boosting content with paid promotion can target additional viewers, and well-crafted content ensures they will find what they need when they arrive.
Conclusion
A valuable content strategy doesn't happen overnight. It requires quality continuous content, and commitment. The path to becoming a brand leader and enabling your growth marketing initiatives is challenging. When you start to publish content more frequently and see that it pays off, it is a rewarding experience.